Mykonos Horse
Opening hours
Sunday

9:00 AM - 9:00 PM

Monday

9:00 AM - 9:00 PM

Tuesday

9:00 AM - 9:00 PM

Wednesday

9:00 AM - 9:00 PM

Thursday

9:00 AM - 9:00 PM

Friday

9:00 AM - 9:00 PM

Saturday

9:00 AM - 9:00 PM
About the company
This is the direct booking site for Mykonos Horse riding tours. For full details of our tours, special packages, booking requirements and Terms and Conditions, please carefully refer to our website: www.mykonoshorse.com.

Click the "Book Now" button to make a reservation. It is important to note we cannot guarantee that you can run on the beach. All depends on the time of day and the time of year. If there are people at the beach it isn't possible. If you are experienced and would like to run on the beach it is best to book the 9.30am ride as this is the tour you are most likely to be able to do it.
If you are making a booking for multiple people at once, we have a limit of 8 people per ride. If the system advises there are no slots available, it may be because we have other bookings at that time, however we may be able to accommodate a smaller group. If this is the case and you can reduce your numbers, please try a smaller number of people for the time slot you are selecting or if suitable, try another date.
STUDENT PRICES: we offer special prices for students booking directly online only. You will be required to show your student card on arrival at Horseland, if you can't produce your student card you will be required to pay the extra amount. These discounted rates only apply to students, not others riding in the group who are not students. You will need to make separate bookings.
We recommend you wear comfortable pants and closed shoes. And, as Mykonos can be windy at times, please consider you may need a jacket.

We look forward to welcoming you to Mykonos Horseland.

Our team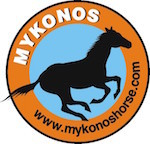 2020 Horseland
mykonoshorse
Top services
Morning two-hour ride including transfers - pick up at 09:00
120 min
This tour totals two hours from Horseland stables to Fokos Beach. We will pick you up from your accommodation at 09:00 and take you to our stables to start the ride at 09:30. Please refer to further details on our website for important book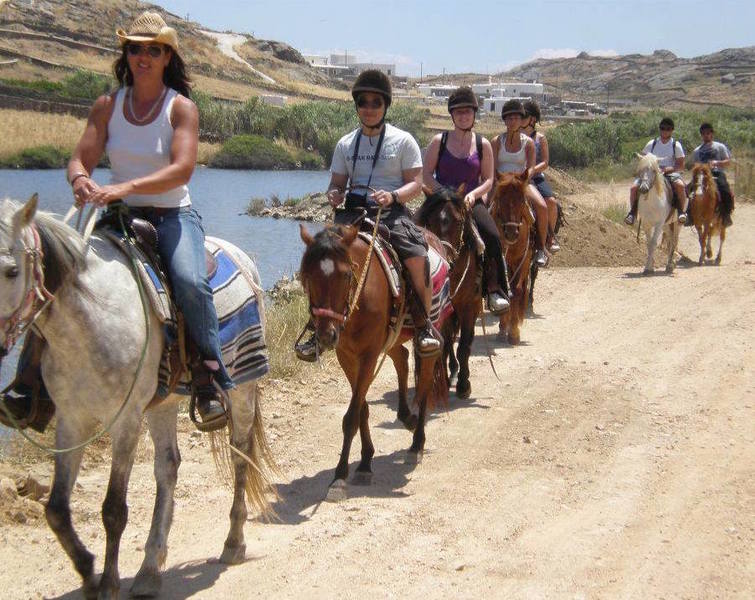 Afternoon two-hour ride - NO TRANSFERS INCLUDED
120 min
This tour totals two hours from Horseland stables to Fokos Beach.  The ride will start at 18:00, and we request you arrive at least 10 minutes before. Search "Horseland Mykonos" on Google Maps for location.  Please refer to our website for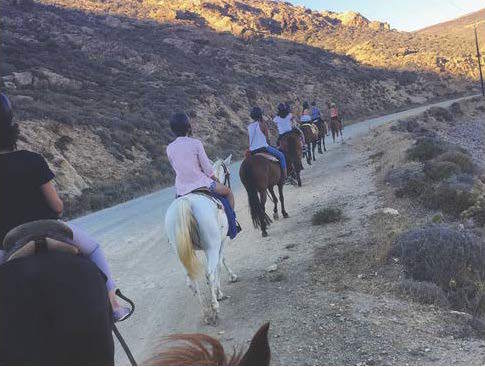 Afternoon two-hour ride including transfers - pick up at 17:30
120 min
This tour totals two hours from Horseland stables to Fokos Beach. We will pick you up from your accommodation at 17:30 and take you to our stables to start the ride at 18:00. Please refer to further details on our website for important book
Morning two-hour ride - NO TRANSFERS INCLUDED
120 min
This tour totals two hours from Horseland stables to Fokos Beach.  The ride will start at 09:30, and we request you arrive at least 10 minutes before. Search "Horseland Mykonos" on Google Maps for location.  Please refer to our website for
mykonoshorse