Anointed Hands
Opening hours
Sunday

9:00 AM - 5:00 PM

Monday

9:00 AM - 7:00 PM

Tuesday

9:00 AM - 7:00 PM

Wednesday

9:00 AM - 7:00 PM

Thursday

9:00 AM - 7:00 PM

Friday

9:00 AM - 7:00 PM

Saturday

9:00 AM - 7:00 PM
About the company
Anointed Hands Beauty and Barber prides its success philosophy on the premise that satisfying our clients is the key to success. We achieve this goal every day by making you feel welcomed and catered to in our relaxed,  upscale boutique. Cast your cares away and let us make you feel even more beautiful than you already are!
We service all ethnicities men, women, boys and girls. We specialize in all hair care, men/boys cuts and fades, color, cutting, hair extensions, weaves, braid styles, locs and more!
**We have a no refund policy. Appointment deposits are non-refundable. Also, once a service is paid for it is understood that a customer is satisfied. Thank you!
Our team
Shanita
Christina
Kadaycia
Jakira
Top services
Volume lash set
15 min
COST: $140- A $15 deposit is required to secure your appointment prior to booking this service. This deposit will be credited to the total cost of the service. This deposit is Non Refundable
Hybrid lash set
75 min
COST: $120 - A $15 deposit is required to secure your appointment prior to booking this service. This deposit will be credited to the total cost of the service. This deposit is Non Refundable
Classic set
75 min
COST: $100 - A $10 deposit is required to secure your appointment prior to booking this service. This deposit will be credited to the total cost of the service. This deposit is Non Refundable
Volume lash refill
60 min
COST: $70 - A $15 deposit is required to secure your appointment prior to booking this service. This deposit will be credited to the total cost of the service. This deposit is Non Refundable
Hybrid lash refill
120 min
COST: $60 - A $15 deposit is required to secure your appointment prior to booking this service. This deposit will be credited to the total cost of the service. This deposit is Non Refundable
Classic lash refill
120 min
COST: $65 - A $15 deposit is required to secure your appointment prior to booking this service. This deposit will be credited to the total cost of the service. This deposit is Non Refundable
Permanent hair Color = $75
150 min
COST: $75 - A $15 deposit is required to secure your appointment prior to booking this service. This deposit will be credited to the total cost of the service. This deposit is Non Refundable
Temporary hair color (rinse) -$40
60 min
COST: $40 - A $15 deposit is required to secure your appointment prior to booking this service. This deposit will be credited to the total cost of the service. This deposit is Non Refundable
Scurl - $75
60 min
COST: $75 - A $15 deposit is required to secure your appointment prior to booking this service. This deposit will be credited to the total cost of the service. This deposit is Non Refundable
Large Knotless Braids
195 min
COST: $160 - A $25 deposit is required to secure your appointment prior to booking this service. This deposit will be credited to the total cost of the service. This deposit is Non Refundable
TIME OFF
60 min
sTYLIST REQUESTED TIME OFF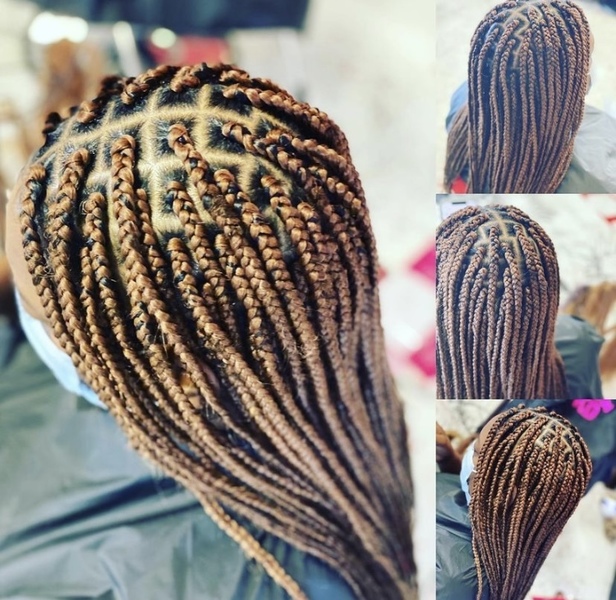 Medium Box Braids
360 min
COST: $175 - A $25 deposit is required to secure your appointment prior to booking this service. This deposit will be credited to the total cost of the service. This deposit is Non Refundable
Small Box Braids
360 min
COST: $180 - A $25 deposit is required to secure your appointment prior to booking this service. This deposit will be credited to the total cost of the service. This deposit is Non Refundable
Tribal Braids (2 layers)- $150 & Up
180 min
COST: $150- A $25 deposit is required to secure your appointment prior to booking this service. This deposit will be credited to the total cost of the service. This deposit is Non Refundable
Kids Senegalese Twist
240 min
COST: $125 - A $25 deposit is required to secure your appointment prior to booking this service. This deposit will be credited to the total cost of the service. This deposit is Non Refundable
kids Lemonade Braids (10 & under) - $75
135 min
COST: $75 - A $25 deposit is required to secure your appointment prior to booking this service. This deposit will be credited to the total cost of the service. This deposit is Non Refundable *prices are with hair added, if hair is not being added pri
Wash/Blow& Curl - $40
105 min
COST: $40- A $15 deposit is required to secure your appointment prior to booking this service. This deposit will be credited to the total cost of the service. This deposit is Non Refundable
Wash, blow, curl and Hot oil treatment - $45
60 min
COST: $45- A $15 deposit is required to secure your appointment prior to booking this service. This deposit will be credited to the total cost of the service. This deposit is Non refundable
HAIR WASHING (only) - $25
30 min
COST: $25 - A $15 deposit is required to secure your appointment prior to booking this service. This deposit will be credited to the total cost of the service. This deposit is Non Refundable If hair isn't washed & blow dried and detangled prior to yo
Wave nouvea - $100
60 min
COST: $45 - A $25 deposit is required to secure your appointment prior to booking this service. This deposit will be credited to the total cost of the service. This deposit is Non Refundable
Perm - $50
60 min
COST: $50 - A $25 deposit is required to secure your appointment prior to booking this service. This deposit will be credited to the total cost of the service. This deposit is Non Refundable
Wash & Silk Press - $55
120 min
COST: $55- A $15 deposit is required to secure your appointment prior to booking this service. This deposit will be credited to the total cost of the service. This deposit is Non Refundable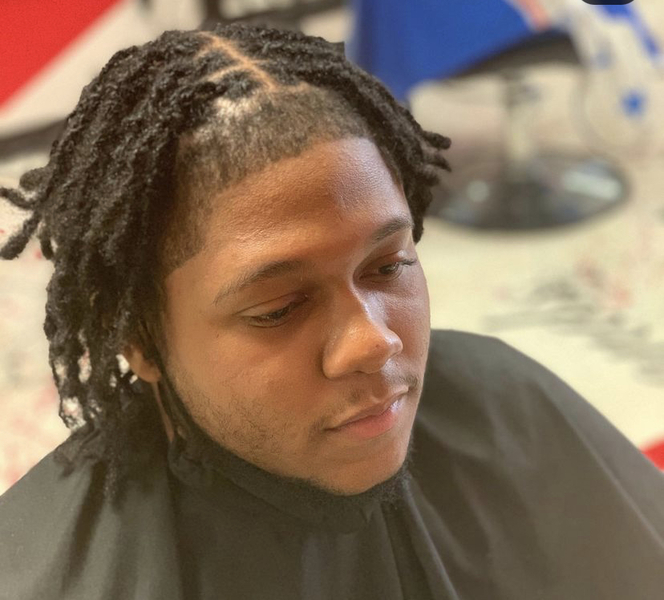 Interlock Locs - $85 ($110 incl style)
60 min
COST: $75 - A $25 deposit is required to secure your appointment prior to booking this service. This deposit will be credited to the total cost of the service. This deposit is Non Refundable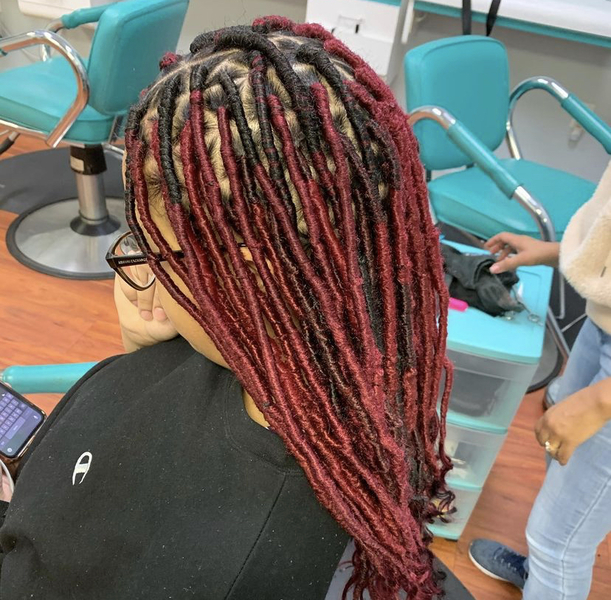 Faux locs - $300 (whole head) hair not incl. you will need approx 6-8 packs of kinky hair
435 min
COST: $300 A $25 deposit is required to secure your appointment prior to booking this service. This deposit will be credited to the total cost of the service. This deposit is Non Refundable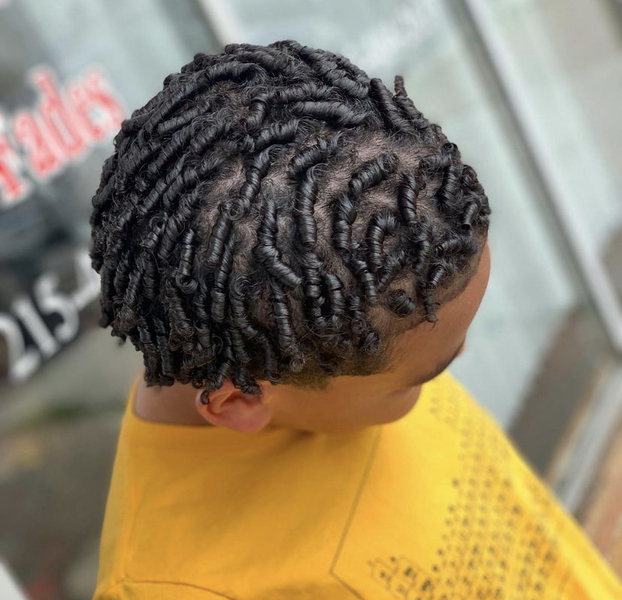 Starter Locs - $85 2-3" of hair = $85 & up 4-6" of hair = $100 & up 6" or more additional *all prices are based on fullness of hair *choice between coils and 2-strand twists (hair longer than 4" may have to be started with 2-strand twists)
90 min
COST: $85 - A $25 deposit is required to secure your appointment prior to booking this service. This deposit will be credited to the total cost of the service. This deposit is Non Refundable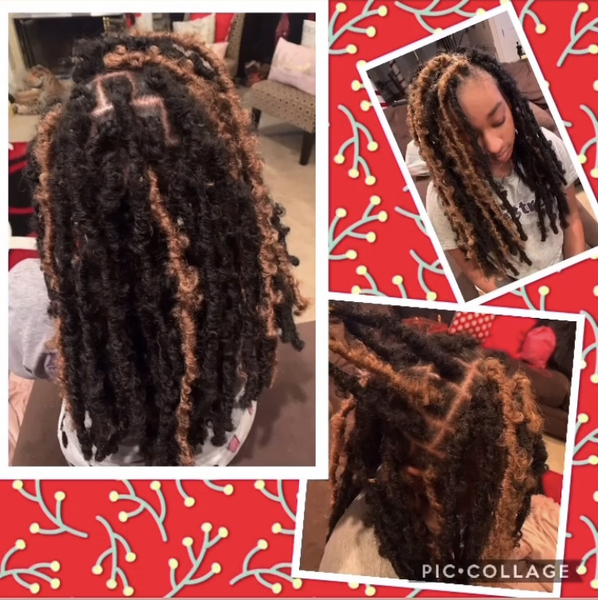 Butterfly Locs - $265
360 min
COST: $265- A $25 deposit is required to secure your appointment prior to booking this service. This deposit will be credited to the total cost of the service. This deposit is Non Refundable**Price includes hair $265= shoulder length $285= mid-back $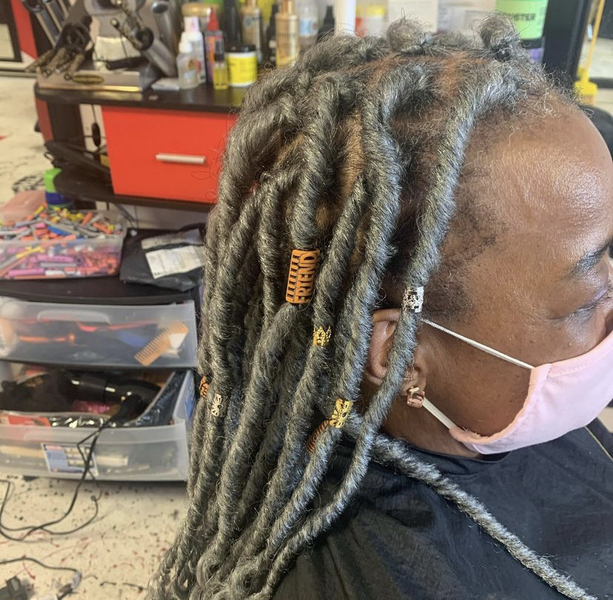 Individual Crochet - $165
240 min
COST: $165 - A $25 deposit is required to secure your appointment prior to booking this service. This deposit will be credited to the total cost of the service. This deposit is Non Refundable
Crochet w individual perimeter $115 & up
210 min
Crochet braids, twists or locs with crocheted individuals around the perimeter. Show less Select
Crochet (loose hair) - $145
210 min
COST: $145 - A $25 deposit is required to secure your appointment prior to booking this service. This deposit will be credited to the total cost of the service. This deposit is Non Refundable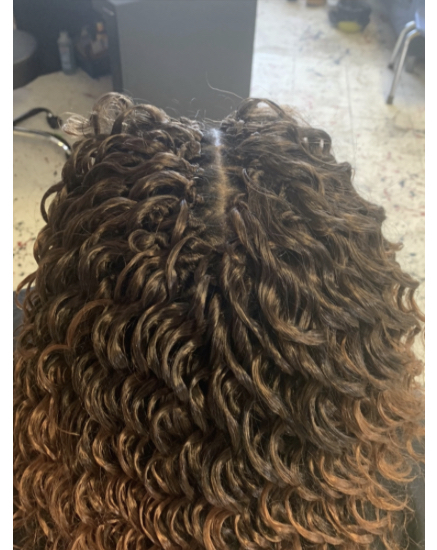 Crochet (pre-looped) - $85
180 min
COST: $85 - A $25 deposit is required to secure your appointment prior to booking this service. This deposit will be credited to the total cost of the service. This deposit is Non Refundable
Yarn box Braids
60 min
COST: $180- A $25 deposit is required to secure your appointment prior to booking this service. This deposit will be credited to the total cost of the service. This deposit is Non Refundable Yarn will be added into the hair to create a yarn box braid
Press - $30 (we will press your hair out using a prssing combor flat irons, ONLY, no curls)
75 min
COST: $30 - A $15 deposit is required to secure your appointment prior to booking this service. This deposit will be credited to the total cost of the service. This deposit is Non Refundable
Small Knotless Braids
15 min
COST: $200 - A $25 deposit is required to secure your appointment prior to booking this service. This deposit will be credited to the total cost of the service. This deposit is Non Refundable