NewCampus
Opening hours
Sunday

Day off

Monday

7:30 AM - 10:00 PM

Tuesday

7:30 AM - 10:00 PM

Wednesday

7:30 AM - 10:00 PM

Thursday

7:30 AM - 10:00 PM

Friday

7:30 AM - 10:00 PM

Saturday

10:00 AM - 2:00 PM
About the company
NewCampus is a modern leadership school that aims to equip a new generation of modern leaders by giving them the skills, insights and connections to stay ahead in the era of unprecedented global change ahead.
Promotions & coupons
This can only redeemed if you have already purchased a Founding Member plan with NewCampus.
Our team
Power Lunch Hour 1
NewCampus
Top services
Positive psychology: The path to wellbeing
90 min
Date: Thursday, 26 September 2019 (730pm)Description:Positive Psychology is a treasure trove of practices, attitudes and emotional states that have repeatedly been found to lead to greater psychological well-being and life-satisfaction. Tapping into
Pushing past the possible - tips from an ultra marathon runner and edtech co-founder
90 min
Date: Friday, 27 September 2019 (12pm)Description:This workshop will help you set bigger goals and reverse engineer daily habits and actions to make more progress that you've ever thought possible. Sharing the personal framework he used to run 250km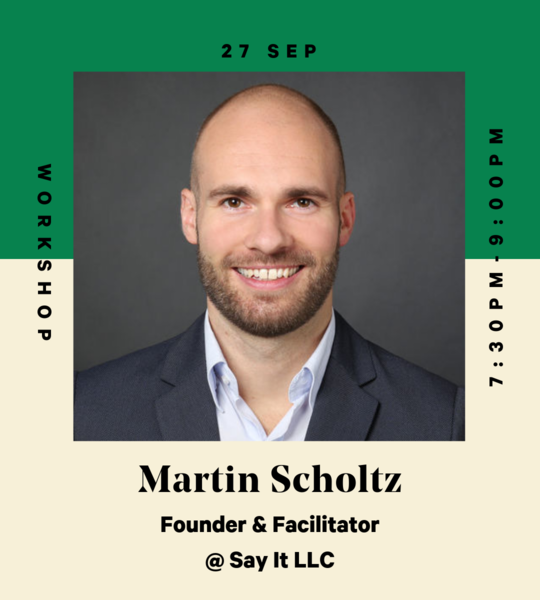 Boost your communication skills through storytelling
90 min
Date: Friday, 27 September 2019 (730pm)Description:Storytelling is one of the oldest methods of bringing across your core message in a colorful way. Many entrepreneurs, executives and other people are using storytelling to inspire and motivate. Disc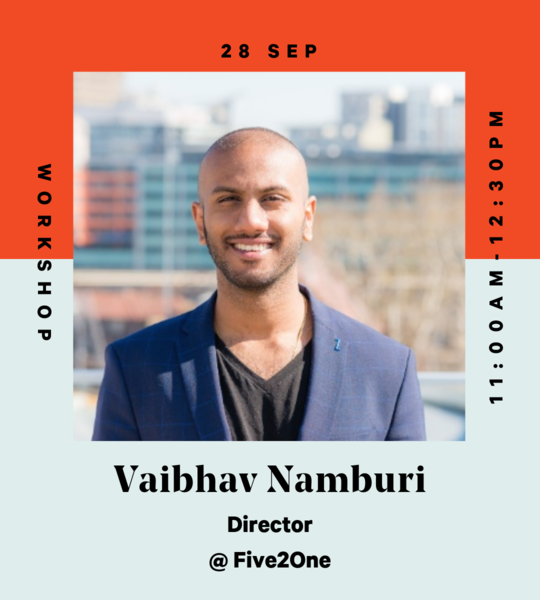 Product mapping: From idea to execution in 90 minutes
90 min
Date: Saturday, 28 September 2019 (11am)Description:This class will help you build a roadmap for launching your product from ideation to building to execution. We will create  a 1-page execution plan to escalate your basic idea into a full-blow
Understanding and practicing sustainability at an individual level
90 min
Date: Saturday, 28 September 2019 (1pm)Description:We hear about sustainability all around us - global initiatives by the UN, government initiatives, company initiatives. But what about individual initiatives? Have you felt like you want to make cha
How to stop caring about what others think about you!
60 min
Date: Monday, 30 September 2019 (12pm)Description:Are you living your best life or are you still living for the approval of your family and friends? In this class, you'll learn how to connect with your authenticity, transform feelings of jealousy an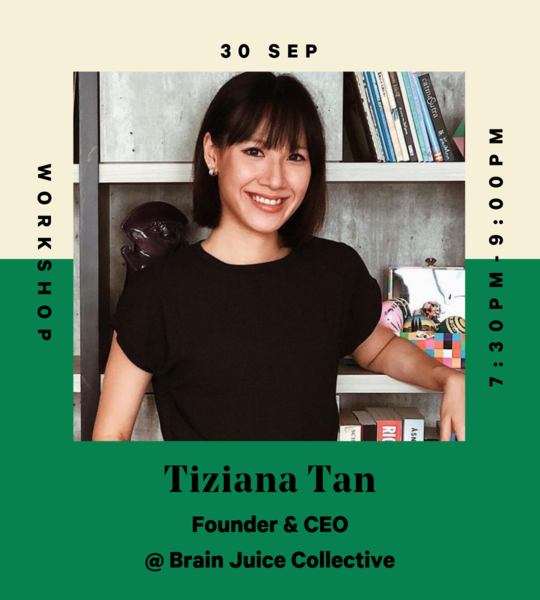 A hands-on introduction to design work
90 min
Date: Monday, 30 September 2019 (730pm)Description:Design is not just about aesthetics. Good design is backed by design principles, research and efficient execution. This hands-on workshop will explore the research and psychology that goes into desi
Behavioral Design 101: To change the world we need to first change behavior
90 min
Date: Tuesday, 1 October 2019 (730pm)Description:Behavioral Design is the practice of creating behavior change by applying the latest insights from psychology, behavioral science, and behavioral economics. In this dialogue, you will learn the fundame
Podcasts: A look behind the scenes
90 min
Date: Wednesday, 2 October 2019 (730pm)Description:Nearly one out of three people listen to at least one podcast every month. In this workshop, You will be guided through the entire process of podcasting from conceptualising a show to the post-produc
The back of the napkin - Solving problems and selling ideas with pictures
90 min
Date: Thursday, 3 October 2019 (730pm)Description:Visual thinking is using our innate ability to see, both, with our eyes and our mind's eye, to discover previously invisible ideas, develop those ideas in a rapid and intuitive way, and then share tho
Pitching as a life skill
90 min
Date: Friday, 4 October 2019 (12pm)Description:Pitching is a life skill. At different points in our lives, we encounter situations where we need to prove our ability to do a job as an individual or an organization. This workshop will help you underst
How to maximize your impact as a social entrepreneur
90 min
Date: Friday, 4 October 2019 (730pm)Description:Thinking of starting a social enterprise? Or already working on one? Sometimes the best of intentions don't actually lead to positive social change. In this course, we'll delve deep in understanding the
A basic introduction to Design Thinking
90 min
Date: Saturday, 5 October 2019 (11am)Description:This course cuts to the chase and offers a comprehensive overview of what design thinking is, why it's an essential tool for personal and business use, and how to apply it.It peels away the facade and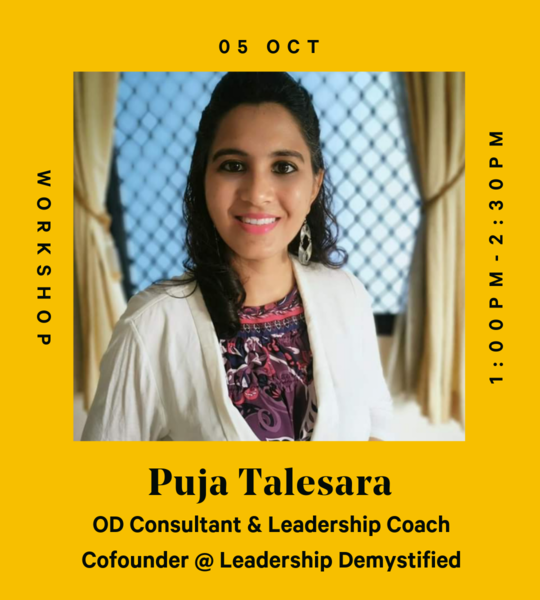 Communicate with assertiveness
90 min
Date: Saturday, 5 October 2019 (1pm)Description:Assertiveness reflects self-confidence, creates a positive work environment and reduces anxiety. In this class, understand what the role of a communicator is, how to be empathetic, understanding and the
Understanding neuroscience to build stronger relationships
60 min
Date: Monday, 7 October 2019 (630pm)Description:In an increasingly digital world, it would appear that we are more tightly connected to each other than ever before. Social media platforms have enabled us to make millions of "friends" should we want t
Stress-busting techniques for the modern workplace
90 min
Date: Monday, 7 October 2019 (8pm)Description:Modern workplaces are becoming increasingly fast-paced, high-pressured environments due to the accelerating pace of technological development and evolving business practices. No matter if you work for cor
The Future of IoT (Internet of Things)
90 min
Date: Tuesday, 8 October 2019 (730pm)Description:The future possibilities of the Internet of Things are endless. An exciting wave of future IoT applications will emerge, brought to life through intuitive human to machine interactivity. The scope of b
The power of habits and grit from an ultramarathon runner
90 min
Date: Wednesday, 9 October 2019 (730pm)Description:Grit separates top performers from the pack in business, leadership, and life. Ultramarathon runner Greg Nance shares how he systematically built his grit step-by-step to run 7 marathons in 7 days ac
Leadership 101: Driving accountability with powerful questions
60 min
Date: Thursday, 10 October 2019 (730pm)Description:The lack of personal accountability is a problem that has resulted in an epidemic of blame, victim thinking, complaining. In this VUCA world, to stay on top of the game, you need to be able to ask po
A closer look at sustainability and food tech through Shiok Meats
60 min
Date: Friday, 11 October 2019 (730pm)Description:One of our basic needs as humans is food. With increasing levels of pollution, the interest in food has increased. What we need today are sustainable, clean, healthy, cruelty-free food stuff. These ter
Technology reinventing the agri-food system
60 min
Date: Saturday, 12 October 2019 (11am)Description:Globally, the food and ag industry is a US$7.8 trillion industry, solely responsible for feeding the planet and hiring over 40% of the word.As with all industries, technology plays a central role, but
Beginners guide to better manage finance and build wealth
90 min
Date: Saturday, 12 October 2019 (1pm)Description:You earn money and spend money everyday. But did anyone teach you how to use it properly? Why do some people succeed financially when others don't? Why do the rich get richer & why some millionaire
Reframing - an everyday technique to overcome life's problems
90 min
Date: Monday, 14 October 2019 (730pm)Description:Learn useful reframing tools to deal with pesky problems that everyone else has given up on, and in the process uncover new strategic opportunities for exponential growth.Reframing helps you tackle pro
Building Authority the WRITE Way
90 min
Date: Tuesday, 15 October 2019 (8pm)Description:In today's world, there's just too much noise out there jostling for the same attention and competing for the same market. As people increasingly rely on relationships to make purchase decisions, truste
What is Cultural Intelligence and how you can develop it
90 min
Date: Wednesday, 16 October 2019 (730pm)Description:Intercultural interactions has become a norm than an exception. We are all dealing with various challenges or demands of working within intercultural contexts. Cultural Intelligence (CQ) refers
Pitching for laughs: public speaking lessons from stand-up comedians
90 min
Date: Thursday, 17 October 2019 (730pm)Description:Whether you're making a corporate presentation or a startup fundraising pitch, you can always add a little comedic twist to get attention, connect better and be more memorable. An award-winning comed
Easy ways to start your side hustle
90 min
Date: Friday, 18 October 2019 (12pm)Description:This class will help you to pursue your passion through side hustles. You will learn how to find your side hustle if you don't have a clue or arm you with skills to follow-through if you have discovered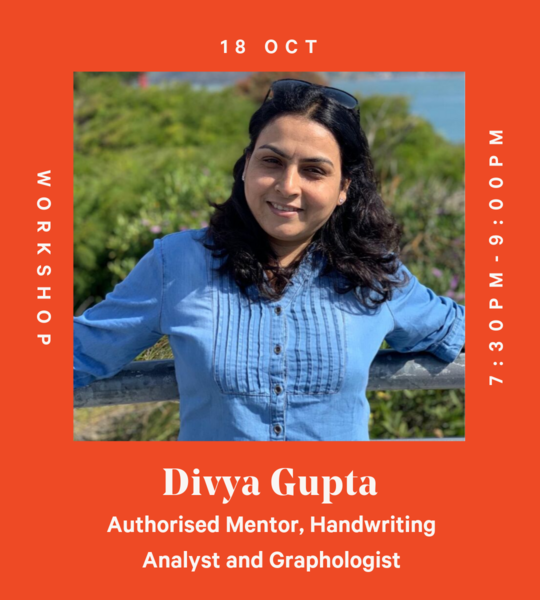 Analyse yourself and others through handwriting - An Introduction to Graphology
90 min
Date: Friday, 18 October 2019 (730pm)Description:Handwriting is a reflection of one's personality. Through handwriting analysis, one can identify, understand and evaluate one's fears, strengths, thinking pattern, road blocks, sensitivity to criticism