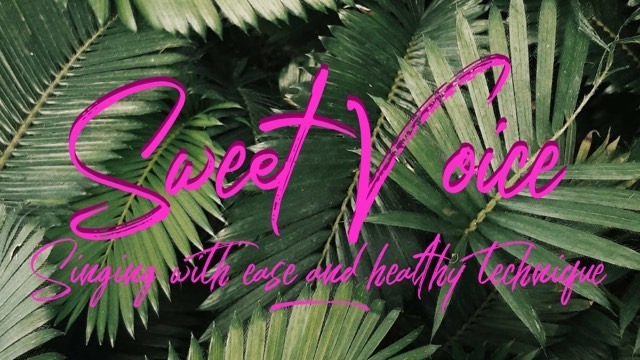 sweet voice
Opening hours
Sunday

Day off

Monday

11:00 AM - 9:00 PM

Tuesday

11:00 AM - 3:45 PM

Wednesday

11:00 AM - 3:45 PM

Thursday

11:00 AM - 9:00 PM

Friday

11:00 AM - 9:00 PM

Saturday

Day off
About the company
Do you want to learn to sing but don't know where to start? Or maybe your a singer who's struggling to hit the high notes, feeling tight or uncomfortable in your throat when singing, or maybe your voice getting tired easily?

I teach healthy singing technique which WILL help you solve these problems and many more.


Or are you stuck with your practicing? What to practice? How much? How often? Feeling tired more often than inspired?

Don't worry! I've felt exactly the same way, worked out how to get through those obstacles and now I'm here to help YOU do the same!

Every voice and student is individual so we'll make a plan to reach your individual needs and goals in singing. On the lessons we'll see what we need to work on on your technique and tailor exercises that will help you in the areas you need practice in, which will help your motivation because you're training the right things and therefore making progress. We can also plan your practices so you'll know what to do and when, and we can make it fast and efficient so it's easy to keep the interest up!
About me:
Teaching groups and private lessons since 2016.

I gratuated 05/18 from Keskuspuiston Ammattiopisto as professional musician; major pop/jazz singing, vocational upper secondary qualification (minored in; piano, music composition, music technology and performing).

I currently study music pedagogy at Sibelius Academy open university.

I've sang basically all my life and had different teachers with different approaches which kinda helped and kinda worked but not quite perfectly until I went to study to be a professional singer and got my singing teacher who taught me how to really use my voice with a healthy singing technique. My vocal range grew SO MUCH and I don't have to worry about my voice getting tired from singing any more, and I still keep making progress and learning new stuff all the time! I studied with my singing teacher privately every week for 90 min whole my professional studies. I started teaching 1 year into my own studies because my teacher had given me this amazing technique from which I knew it was the right way if you really wan't to take your voice to the maximum! I want to share this with everybody struggling with their singing and I'm constantly learning as a teacher how to pass this forward. I want to help you find and strengthen your voice by learning proper singing technique, and finding the right exercises for you, which makes practicing faster and more effective, thus easier! Book a lesson and let's get you started:)
Satu / founder of Sweet Voice
Our team
Satu
Top services
Singing lesson 45min
45 min
Do you want to learn to sing but don't know where to start? Or maybe your a singer who's struggling with hitting the high notes, feeling tight or uncomfortable in your throat when singing, your voice getting tired easily?The best
Singing lesson 60min
60 min
Do you want to learn to sing but don't know where to start? Or maybe your a singer who's struggling with hitting the high notes, feeling tight or uncomfortable in your throat when singing, your voice getting tired easily?The best